Greece Sailing Yachts
Luxury Greece Sailing yachts Over 100 Feet
Greece charters offers some of the most elegant and sleek sailing yachts in the world. The Greek sailing yachts featured below are above 100 Feet and are all available for your Greek sailing vacation. We welcome you to select any of the yachts and we will provide you with all the necessary information to help you decide on the best sailing yacht for your Greece yacht charter.
MYRA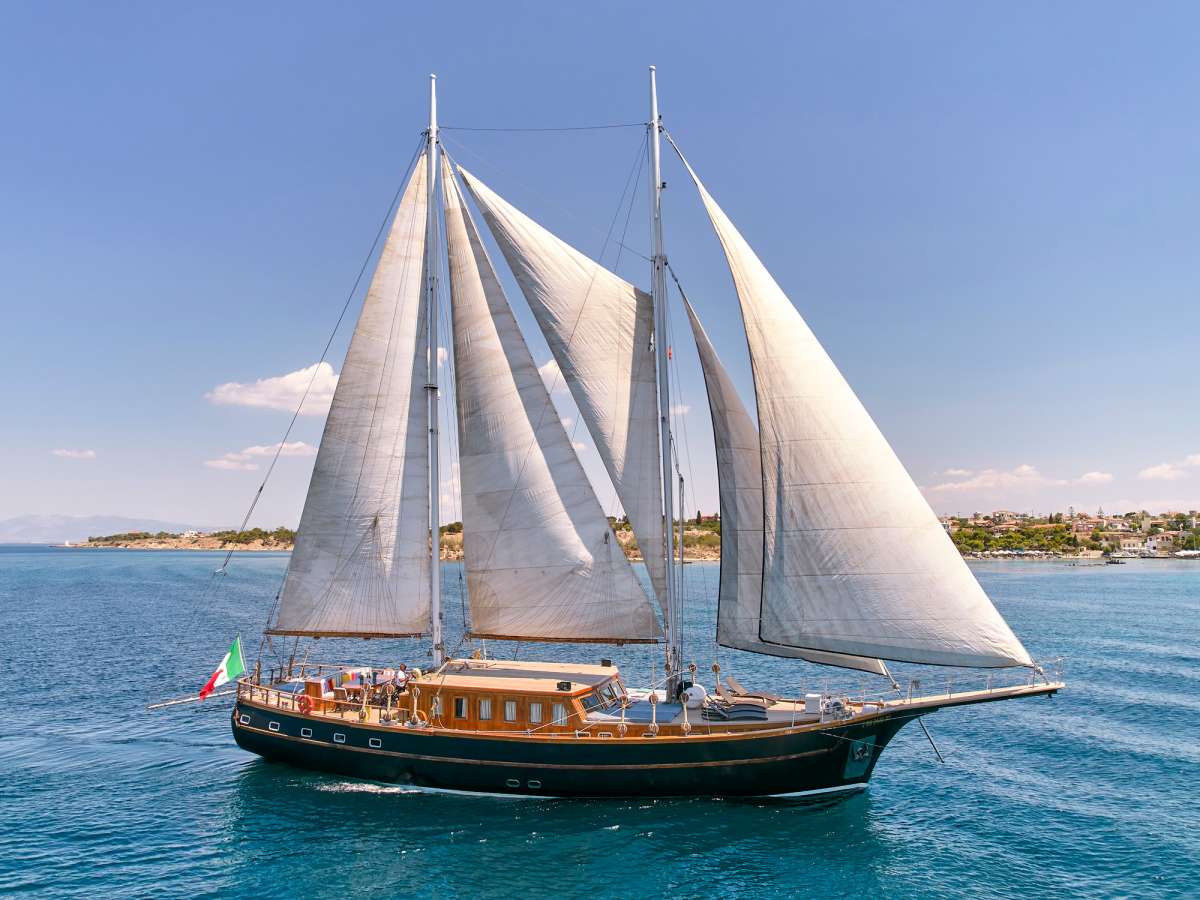 Low Price: €23,000 High Price: €28,000
Builder:
Custom Built Aluminum Cutter
Accommodations:
Four double guest cabins are forward of the salon, while two twin guests cabins are aft of the salon all with private bathrooms
Amenities
Generator:
2 x Northern Lights 10 & 22 Kw
Water Sports
Swim Platform:
Inflatable
Other Toys: WATER TOYS:
-n.2 seawing
-n.3 paddles
-n.1 inflatable kayak
-n.1 platform 2m x 3m
-n.2 pair of water ski
-n.1 wakeboard

OTHER AMENITIES:
hairdryers (6)
Washing machine/dryer (light laundry)
Iron (1)
Bathrobes for each guest
Pillows on each bed (4)
Bathroom Amenities (Shampoo, Conditioner, Shower gel, Body Lotion)
Communications:
Printer, laptop
Crew Details

CAPITAN: Marco Staniscia, Italian.
Marco was born in 1969 in Termoli. His sailing career started about 20 years ago with drift sailing boats and a sailing course in Bonifacio. After 5 years of hobby sailing, he started to take part in boat deliveries from boat factories to their final home port in the Mediterranean gaining navigation experience and adapting to any kind of sailing conditions with different types of yachts. A few years later he got his first job as captain on a Tartan yacht sailing all over the Mediterranean and crossing the Atlantic Ocean to the Caribbean. He has participated in numerous races, has worked for the past 4 years in charter yachts and has accumulated about 45000 NM. After one year on board on Catamaran Genny, He is now ready and excited to join Myra as Capitan. He is responsible, has a hands-on and positive attitude and will be a great asset to the crew on board! He loves anything that has to do with the sea and enjoys traveling and getting to know new people.

FIRST MATE: Simone Boffa, Italian
Simone is 26 years old and he comes from a small village surrounded by the mountain. Since when he was a child he had dreamed to travel and discover whatever was out of his village and for this reason he choose to study at the Nautical school. He made his first embark on 2016 on board on a tanker which travelled the Pacific Ocean, the Mediterranean Sea, the death sea, and he had lived on board for 9 months. His passion kept on growing and he embarked on a dredge from Termoli till Wales for a transfer ship. On 2021, Myra's owner, hired Simone with much enthusiasm and great expectation and since them he is working on bord with an incredible passion and the desire to keep on traveling the word meeting new and different people to broaden his knowledge. He would love to became a Capitan one day and he is on his way.

CHEF: Benedetta Valentini, Italian.
Benedetta is a young old Italian chef who despite her age, has shown the right qualities and aptitudes to face the great role that has been entrusted to her. She is in fact 23 years old he has already worked in different countries around the word as France, Caribbean, Italy and she already embarked on board of ferries boat. Her goal is to grow up her passions for cooking on board on charters boat, where she will be able to satisfy the requests of its customers and experiment new recipes from different countries of the word. Her passion for cooking is easily recognized from her plates and tastes and also her passion from traveling. She is a determined and brave girl and we are sure she will have a successful work like ahead.

SECOND MATE/Stewardess: Sabina Lupo, Italian.
Sabina is a beautiful and strong woman who stared to work on board on yacht 6 years ago. She recreated her life style following her hearth and since them she has never left the sea. You can see Sabina always at ease on board ready to face all the adventures and difficulties encountered by the sea. She is genuine, shrewd and sweet like the best friend we would love to have. She loves the sea, the navigation, the sun and breath fresh air. She is always available to help her crew and careful to assist her guest in the water. She is a really good tender driver and she can't wait to start the new adventure!