Greece Sailing Yachts
Luxury Greece Sailing yachts Over 100 Feet
Greece charters offers some of the most elegant and sleek sailing yachts in the world. The Greek sailing yachts featured below are above 100 Feet and are all available for your Greek sailing vacation. We welcome you to select any of the yachts and we will provide you with all the necessary information to help you decide on the best sailing yacht for your Greece yacht charter.
ALTHEA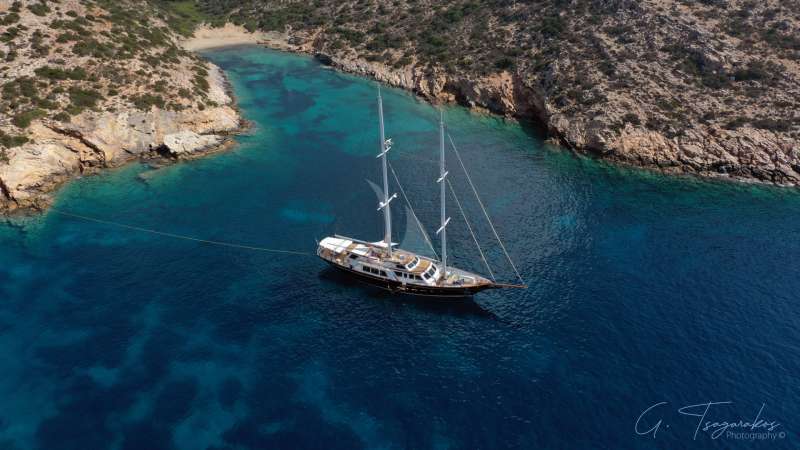 Low Price: €41,500 High Price: €46,500
Amenities
Water Sports
Other Toys: Banana
Ring
Other Toys: Satellite TV
Sunshades at top deck
Telescopic crane
Crew Details
George Tsagarakos
Position: CAPTAIN
Nationality: Greek
Spoken languages: Fluent English and basic French
52 years old Captain George is a graduate of the Merchant Marine Academy and holds a Captain
Class B' Diploma. He began his career on board commercial vessels traveling around
the world and for the past 20 years he has served on board professional and private
yachts. He has all the necessary updated qualifications & certificates in Fire Fighting
and First Aid, GMDSS, Personal Safety and Ship Security. He is gentle, kind and eager to
please his guests, always ensuring their safety and comfort. He has long experience on
Motor Sailers and has been onboard M/S ALTHEA as Captain from the beginning of
2016. Captain George is married with one child. In his spare time he enjoys studying history
and jogging.

Lezos Nikolas
Position: CHEF
Nationality: Greek
Spoken Languages: English & Greek
Lezos is 31 years old and holds a degree from the Organization of Tourism Education and Training (OTEK), in Corfu Greece. He is specialized in Greek and International cuisine. He has a long experience in operating various food units and his strong work ethics makes him extremely responsible on safety and hygiene therefore he is the ideal Chef on board Althea. Lezos is an outstanding Chef while has gained Gold Award in the 7th Pan-Hellenic Cooking Competition with the participation of the Balkan countries. Chef Lezos also proudly achieved the position as the 3rd greatest Chef at the 7th International Gastronomy Forum. Lezos has also been elected as a handpicked member of the Hellenic Chef's Association.

Joann Camille Marquez Ligos
Position: CHIEF STEWARDESS
Nationality: Filipino
Spoken languages: English & Filipino
Joann is 30 years old and she joined Althea in August 2021. Her hospitality skill services are in high standard and can satisfy the guests in the best possible way. She is expert in team working and she can handle various duties under pressure. Her great experience in the food industry in yachts, gave her the ability to work quickly, safely and with an excellent hygiene. Joann enjoys serving customers and she is always keeping an eye in every little detail. Joann's education is excellent as she gained a course from a college on hospitality services as well as a certificate on advance culinary arts.
Her rich background in the food industry, makes her the perfect chief stewardess aboard Althea.

David Melani
Position: 2ND STEWARDESS
Nationality: Albanian
Spoken languages: Greek, Albanian and English.
David is 23 years old and has over 3 years' experience onboard Charter Yachts, and has
been on board M/S Althea for last 3 years. He holds Certificates in Life Saving, Fire
Fighting and First Aid. His top priority is to support his team and provide top notch
service for his guests on board. He is extremely organized and his attention to details
makes him a top rate expert in his field.
In his spare time he enjoys water sports, swimming, and cinema.

Samir Ioakim
Position: ENGINEER
Nationality: Russian
Spoken languages: Greek, English, Arabic, Russian and French.
Samir is 55 years old and he is the man who keeps Althea going for the last 20 years.
After studying Engineering in Russia he worked on Greek ocean going vessels and in
different companies in Canada until 2000. Since then he has been caring for Althea as
an engineer and assistant to the Captain. Samir's calm personality often hides a delicate
sense of humour which delights all those who discover him.
He is married with 2 children and has many interests: fishing, travelling, reading,
design, tennis and chess.

Fred Melani
Position: DECKHAND
Nationality: Albanian
Spoken languages: Greek, Albanian and English.
Fred is 49 years old and it is thanks to the year round efforts of Fred that Althea's deck
is always in pristine condition. Fred who is sportsman and a sailor does a lot more than
maintenance. He takes care of water sports and his welcoming personality puts his
guests at ease and helps them enjoy all the sport activities of their cruise. Fred who has
always worked on sailboats has been with Althea for the last 12 years.
He is married with 2 children and loves water sports and running.