Greece Sailing Yachts
Luxury Greece Sailing yachts Over 100 Feet
Greece charters offers some of the most elegant and sleek sailing yachts in the world. The Greek sailing yachts featured below are above 100 Feet and are all available for your Greek sailing vacation. We welcome you to select any of the yachts and we will provide you with all the necessary information to help you decide on the best sailing yacht for your Greece yacht charter.
HYPERION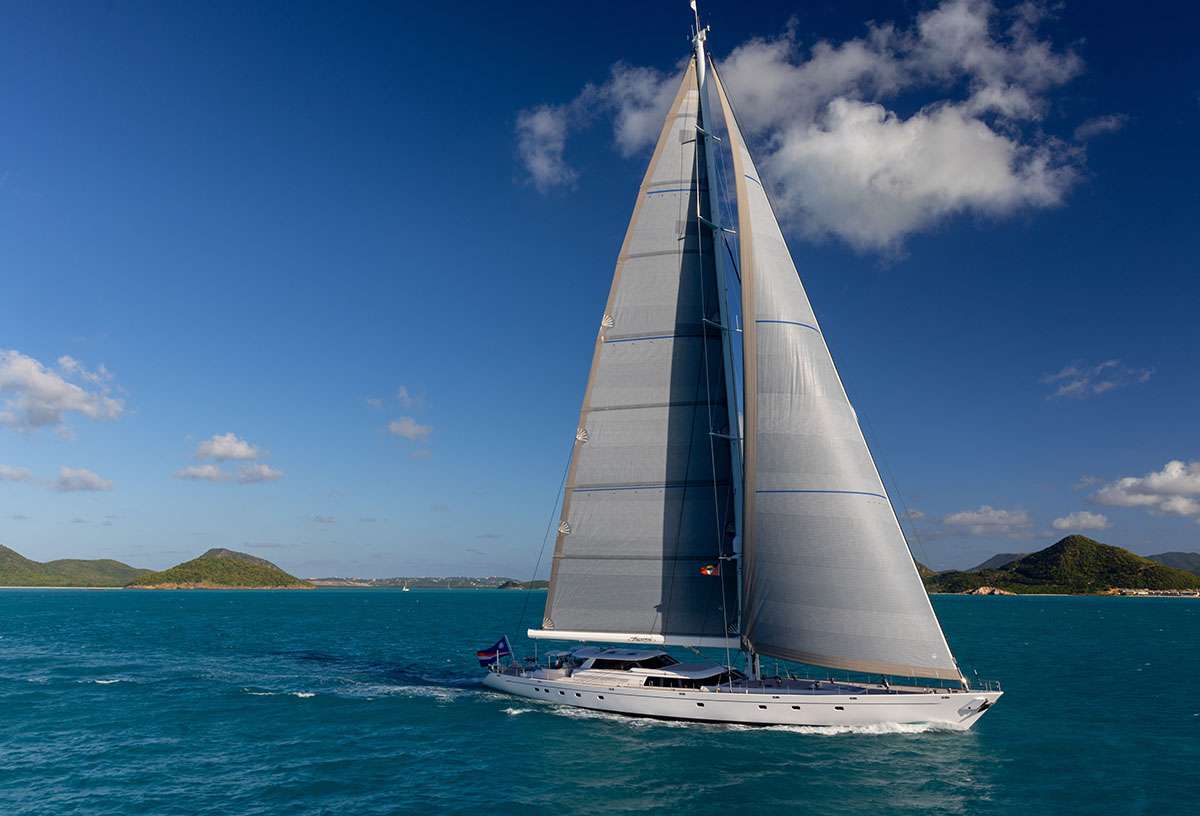 Low Price: $91,000 High Price: $112,000
Accommodations: Full beamowner's cabin located aft with king-sized bed, study area and bathroom en-suite.
Double cabin starboard side aft with queen size bed, shower room en-suite.
Twin cabin on port side aft with two single beds and shower room en-suite.
Amenities
Dinghy Size:
McMullen and Wing
Dinghy Size:
McMullen and Wing
Water Sports
Other Toys: 2 sets of kite surfing gear
towable inflatables
Communications: VSAT, phone, fast internet (a little slower than Broadband)
VHF Radiotelephone
1 Siemens Hicom 130 wireless telephone exchange with 21 extensions
2 x GSM phones
Iridium hand held phone
Crew Details
November 2018 Update

__________________________________________________________

CAPTAIN: Daniel Rawlins (British)

Daniel grew up on the coast of South Africa and got involved in sailing with the Royal Natal Yacht Club at the young age of eight. His career in Super Yachting started in 1998, when he quickly completed three transatlantic crossing and two busy charter seasons before taking a permanent captain's position on S/Y Gitana, a 120 foot Perini Navi in 2000. After 4 years he went on to complete two successful circumnavigations as Captain between 2004 and 2008, spending a great deal of time in the Pacific. Daniel has a wealth of experience in a multitude of different cruising grounds; he joined Hyperion in 2010 and plans on a long future with us. He has a calm nature and easy-going personality, approachable and confident who follows the belief that the best way to lead is by example.
In his social time he dabbles in Photography, surfing and does competitive Triathlons and road cycling.
___________________________________________________________

CHIEF STEWARDESS: Leanne Roos (South African)

Leanne grew up on the East Coast of South Africa. After studying she left to peruse a career of Interior Design in London.
Working at sea was something she always longed to do and decided after a few years to fulfil her dream. She joined the yachting industry in 2012 and has since mostly worked aboard motor yachts.
Leanne joins us from SY Adix and is very happy to have finally broken into the world of sailing.
___________________________________________________________

CHEF: Lily Jardine (New Zealand)

Lily was born in Dubai, UAE and spent the beginning of her childhood there before moving to New Zealand to complete her schooling. She worked as an Air Stewardess for Emirates Airlines for four years before moving into yachting to pursue her passion for cooking. Lily is influenced by her upbringing and loves to cook middle eastern and Mediterranean dishes.
Completing her culinary studies in Devon, UK she has gone on to further her studies by completing certificates in Nutrition and Raw vegan food. Lily loves reading, travelling, music and dogs

___________________________________________________________

SECOND STEWARDESS: Kim Stafford (Canadian)

Kim has just recently started in yachting but has an extensive background in all areas of hospitality. From bartending and serving to managing large scale events, she will be able to cater to your needs flawlessly. Kim is a water enthusiast with a passion for Scuba Diving and also enjoys water sports such as kayaking, jet skiing, paddle boarding, wake boarding and swimming.
She also has an interest in nutrition and naturopathic remedies and if you have an ailment you can seek her assistance for an alternative cure. Ask her for a drink or a cure if you've had too many!

___________________________________________________________

FIRST MATE: Nicholas Jacklein (Canadian)

Nico joined Hyperion in 2011 and has become an integral member of the leadership team on board. Expanding his knowledge and love of sailing, a common thread of interest running through his life.
Nico spent his childhood summers sailing in the Great Lakes region of Canada, progressively escalating from a position on the race team of the Burlington Sailing Club to Head Coach. Beyond Nico's extreme enthusiasm for sailing in any capacity, he tends towards the academic, having completed a degree specializing in Communications, Economics and International Trade. His various hobbies include travelling, skiing, and kitesurfing.
___________________________________________________________

BOSUN: Joey Marcus (British)

Hailing from Cape Town, South Africa Joey recently joined the crew of Hyperion in September of 2017. As Joey was brought up on boats a maritime career was predetermined and Joey started his career on board a deep-sea fishing vessel based out of Cape Town. The high seas and a desire to travel the world led Joey to Europe in search of a deckhand position on board a super yacht. Joey then travelled to the USA from Europe where he joined us here aboard Hyperion.
Joey enjoys surfing and skateboarding and was First in the South African Gravity Association's Downhill Skateboarding Championship in 2014. He looks forward to traveling to new places and expanding his sea experience and building a solid yachting career aboard Hyperion.
___________________________________________________________

CHIEF ENGINEER: William Kirkman (Billy) (South African)

An experienced engineer, Billy joined as a valuable asset to our crew at the start of winter 2017. Billy acquired an affinity for engineering whilst working on motorcycles and cars in his native South Africa from a young age. A love of racing dirt motorcycles led Billy to work as a mechanic for the Ford off-road racing team, Billy is a true petrol head at heart.
Billy has completed his Y3 Engineering qualifications and developed a wealth of experience on board both sailing and motor yachts over the past 10 years.
In his free time not spent in the furthest corners of the engine room Billy enjoys an outdoor adventurist life style, from hiking mountains to water sports and of course motorcycle riding when he can.
___________________________________________________________

SECOND ENGINEER: Oliver Powell (New Zealand)

Oliver started his yachting career in 2014 after graduating University in New Zealand and realising marketing wasn't for him. Previously, he had worked on commercial ferries in Auckland city but learnt the engineering trade whilst sailing across the Pacific on board S/Y Koo.

Over the past few years he has expanded his knowledge on other large sailing yachts both around America and the Mediterranean.
Oliver is a keen skier and enjoys most adventure sports, most recently learning to paraglide in Spain

___________________________________________________________