Greece Power Yachts
Luxury Greece Power yachts above 150 Feet
Greece charters offers some of the most beautiful and luxurious power yachts in the world. The Greek yachts featured below are all above 150 Feet and are available for your Greek sailing adventure. We welcome you to select any of the yachts and we will provide you with all the necessary information to help you decide on the best yacht for your Greece yacht charter vacation.
BARENTS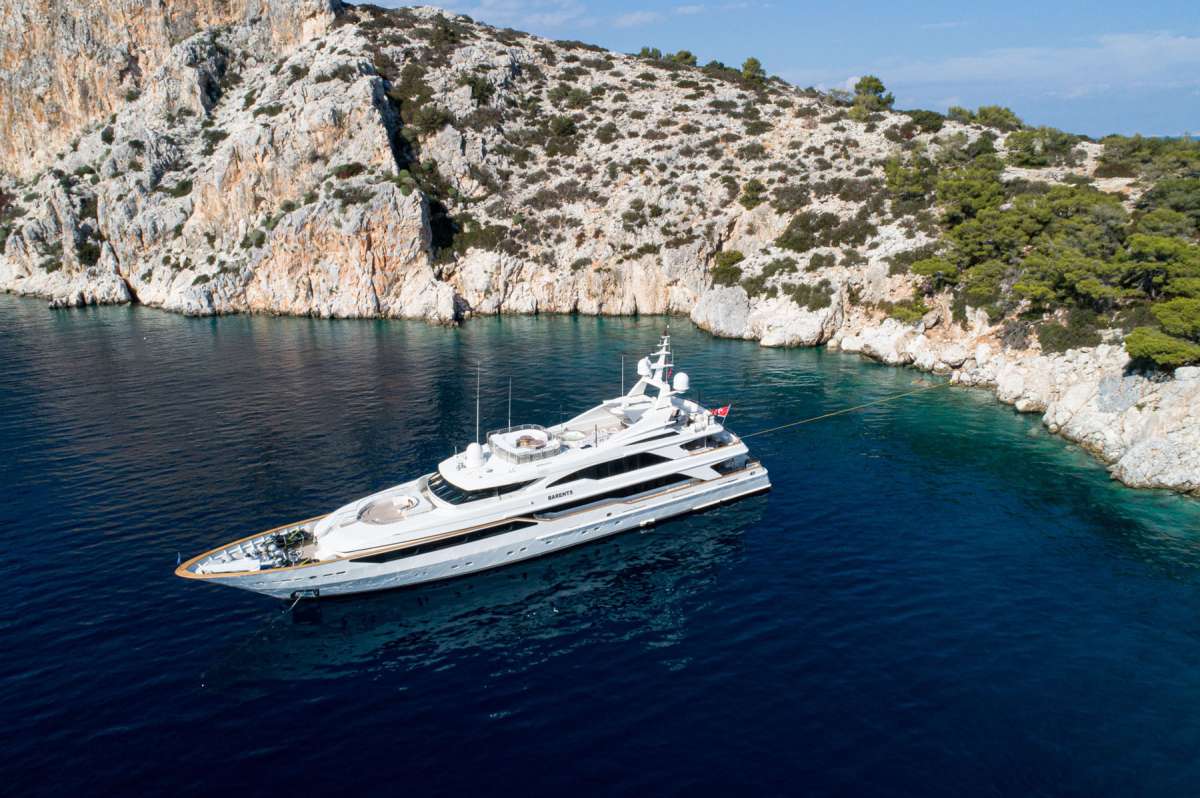 Low Price: €155,000 High Price: €185,000
Accommodations: 1 x Full beam Master Suite located on the main deck featuring a king size bed
1 x VIP Suite located on the upper deck with a Queen size bed
2 x Double Staterooms located on the lower deck with a queen size bed
2 x Twin Staterooms located on the lower deck with a Pullman berth each

All with en suite facilities
Amenities
Water Sports
Other Toys: 1 x 11m Coastal Towing Tender with 2 Suzuki outboard engines, 300hp each
2 x Sea Doo Gtx 260
2 x Seabob F5
1 x Seabob F5S
6 x iAqua
4 x Canoes (2 seater)
3 x sets Adult Water Skis
1 x set Children Water Skis
3 x Inflatable Stand-Up Paddleboards
1 x Polycarbonate Transparent Stand-Up Paddleboard
1 x Inflatable Sofa (4 -seater)
1 x Wakeboard
1 x Inflatable Banana (4-seater)
Snorkeling equipment

Treadmill and Elliptical machine
3 x Inflatable Stand-Up Paddleboards
1 x Polycarbonate Transparent Stand-Up Paddleboard
1 x Inflatable Sofa (4 -seater)
1 x Wakeboard
1 x Inflatable Banana (4-seater)
Snorkeling equipment

Communications: Satcom
VSat
GSM Cellular phone system and Starlink internet access (except Turkey)
Crew Details
Captain / Panagiotis Ntakos
Nationality: Greek
Panagiotis grew up in Elefsis. An avid skier since his youth, Panagiotis's all-round love of the outdoors ultimately led him to the Greek Merchant Marine Academy in 2002. Panagiotis spent his undergraduate years at the Merchant Marine Academy not only gaining his knowledge of marine engineering and navigation but also participating as a varsity member and fleet Captain of the offshore sailing team. He enjoys racing sailboats in his leisure time; and yet, since his departure from the Academy, he has applied his skills & knowledge to a variety of professional marine positions on motor yachts. He joined the successful M/Y Barents Sea, Mondomarine 40m in 2014 and served as Captain until 2021 when he moved to the same owner's new yacht, Barents. His wide knowledge, pleasant personality, and professionalism ensure that your vacation will be everything you expect.

Previous Yachts: "BARENTS", "Barents Sea", "Mondomarine". Interests: racing sailing boats.

Chief Officer / George Christopoulos
Nationality: Greek
Date of birth: 1990
George's avid interest in every activity related to the sea led him to a career in the maritime industry from an early age. His passion to meet people from different walks of life brought him to join the luxury yachting industry in 2018, commencing his career at sea as an apprentice officer onboard tanker vessels before working his way up from 2nd officer to captain onboard private & charter motor yachts. George is a calm, friendly individual with excellent communication and leadership skills he is always eager to help his clients and fellow crew members and is an invaluable asset to the team! He has various qualifications including proficiency in fast rescue boats, advanced firefighting, elementary first aid, survival craft, and rescue boats, ship security officer & awareness as well as having a speed operator license.
Languages: English, Greek (native).

Previous Yachts: "BARENTS", "Moka", "Clorinda", "Aqua Libra".
Interests: Sailing, music & technology.

Chief Engineer / Victoras Houmis
Nationality: Greek

Victoras is 43 years old, a Greek national. He holds an A' Class Engineer's Certificate and a speed boat license. Also, he has attended many seminars on engines and generators. He has worked on vessels and since 2005 has been on board various charter yachts including Ramina and A&I. He joined Barents Sea in 2014 and then moved to Barents in 2021. Victoras ensures that every system works perfectly and is maintained to the highest standards for the safety of all guests. He speaks English and enjoys all water sports.

Previous Yachts: "BARENTS", "Barents Sea", "Ramina", "A & I''.
Interests: Water sports.

2nd Engineer / Stelios Gasparatos
Greek

Stelios commenced his career at sea in 2017 working as an apprentice with Seajets and then as an assistant engineer. His motivation for new challenges, emphasis on details, adaptability, and multitasking skills make him a great asset to the team! Stelios holds certificates in Tanker Safety basics, Ship security office, Proficiency «Ro-Ro Passenger Ship», Proficiency «Seafarer with Designated Security Duties» «Personal Survival Techniques, Fire Prevention & Fire Fighting. Elementary First Aid, Personal Safety & Social Responsibilities».
Interests: Sailing, watersports, travelling.

Chef / Panagiotis Palatos
Nationality: Greek

Panagiotis is a graduate of both Greek and German Culinary Institutes. He has worked as a Chef and Executive Chef in several five-star hotels and luxurious restaurants in both countries before joining the yachting industry. He was also a professor of the cooking faculty Palmier, a Member of Greek Cook Olympic Team, a member of Eurotogether Greece, he presented a cooking section in a TV Show for 3 years and he holds a Second Pan at the Hellenic competition of cooking. Panagiotis specializes in Mediterranean & International cuisine. He also masters specific requests, such as Kosher meals. Panagiotis is very passionate about his cuisine, eager to tailor-make his guests' menus and keen to present them with gastronomic extravagances or simple, heavenly tastes. He speaks English and German. He is 43 years old and married with two children. He joined Barents Sea crew in 2014 and Barents in 2021.

Previous Yachts: "BARENTS", "Barents Sea". Interests: travelling.

Chief Stewardess / Jenny Papadopoulou
Nationality: Greek

Jenny holds a Bachelor's degree in Business Administration & Tourism and English commercial Correspondence. Prior to joining the yachting industry, she worked onboard cruise ships. She has come from the famous charter yacht Barents Sea and before that, she served onboard Alexandra 50m. Her hospitality and communication skills are second to none making all guests onboard feel at home. She has an eye for detail, and she maintains the highest levels of service at all times. Jenny speaks English, French, Italian, and basic German and Arabic. She loves travelling and reading.

Previous Yachts: "BARENTS", "Barents Sea", ''Alexandra''.
Interests: travelling and reading.

2nd Stewardess / Stamatina Lyropoulou
Greek / 1993

Stamatina joined the yachting industry in 2015. She brings years of experience with her; her positive nature ensures the right atmosphere & level of service are always met for each client. She is a detail-oriented, organized individual who is an excellent asset to the team! She also holds certificates in Seamans Book / STCW, a certificate in lifesaving and firefighting, and also has a Powerboat License.

Languages: English, Greek (native).
Previous Yachts: "BARENTS", "JESMA", "Can't Remember", "Pe-Dream".
Interests: ballet, reading.

3rd Stewardess / Aggeliki Petraki
Nationality: Greek

Aggeliki is Greek, born in 1986. She holds a degree in Agriculture, Food, and Environment and she has been working in hospitality since 2007. She offers excellent service to all guests onboard Barents, ensuring that everyone has an enjoyable and comfortable time. She has great communication skills and a positive attitude, always bringing a friendly smile. Aggeliki speaks English.

Previous Yachts: "BARENTS".

4th Stewardess / Constantina Vlassopoulou
Nationality: Greek

Constantina holds a diploma in Beauty Therapy having previously worked in salons and spas. She joined the luxury yachting industry quite recently working as a chief stewardess onboard M/Y Riana II adding to her years of experience in the hospitality sector. An outgoing individual with a positive, creative attitude Constantina is a great addition to the team!

Bosun / Nikos Sfikas
Nationality: Greek
Date of birth: 1967

Nikos holds a Seaman's certificate and speedboat license. He has worked on various motor yachts and he has been onboard Barents Sea since the delivery of the yacht in 2008, and moved to Barents in 2021. Nikos has proved to be a hard-working individual with great knowledge of the yacht. He enjoys fishing. He is married and has one child.

Previous Yachts: "Barents", "Barents Sea". Interests: fishing.

Deckhand / Mandy Nobleza
Nationality: Filipino

Mandy has been working in the yachting industry for the past 18 years in various deckhand positions. He is hardworking and very careful with the safety of the yacht. Mandy is a hardworking person, has a positive attitude, and is always happy to help in all departments with various tasks. He speaks English, Greek, and Filipino.

Deckhand / John Lysikatos
Nationality: Greek

John was born in 1994 and he is Greek. He holds a tender operator license and a sailors license from the Merchant Marine Academy of Aspropyrgos. Before joining Barents' team, he served onboard M/Y Toy A. He is polite with strong communication skills and is a great team player. John speaks Greek and English and he enjoys swimming.

Previous Yachts: "Barents", "Toy A". Interests: swimming.