Greece Power Yachts
Luxury Greece Power yachts above 150 Feet
Greece charters offers some of the most beautiful and luxurious power yachts in the world. The Greek yachts featured below are all above 150 Feet and are available for your Greek sailing adventure. We welcome you to select any of the yachts and we will provide you with all the necessary information to help you decide on the best yacht for your Greece yacht charter vacation.
PAREAKKI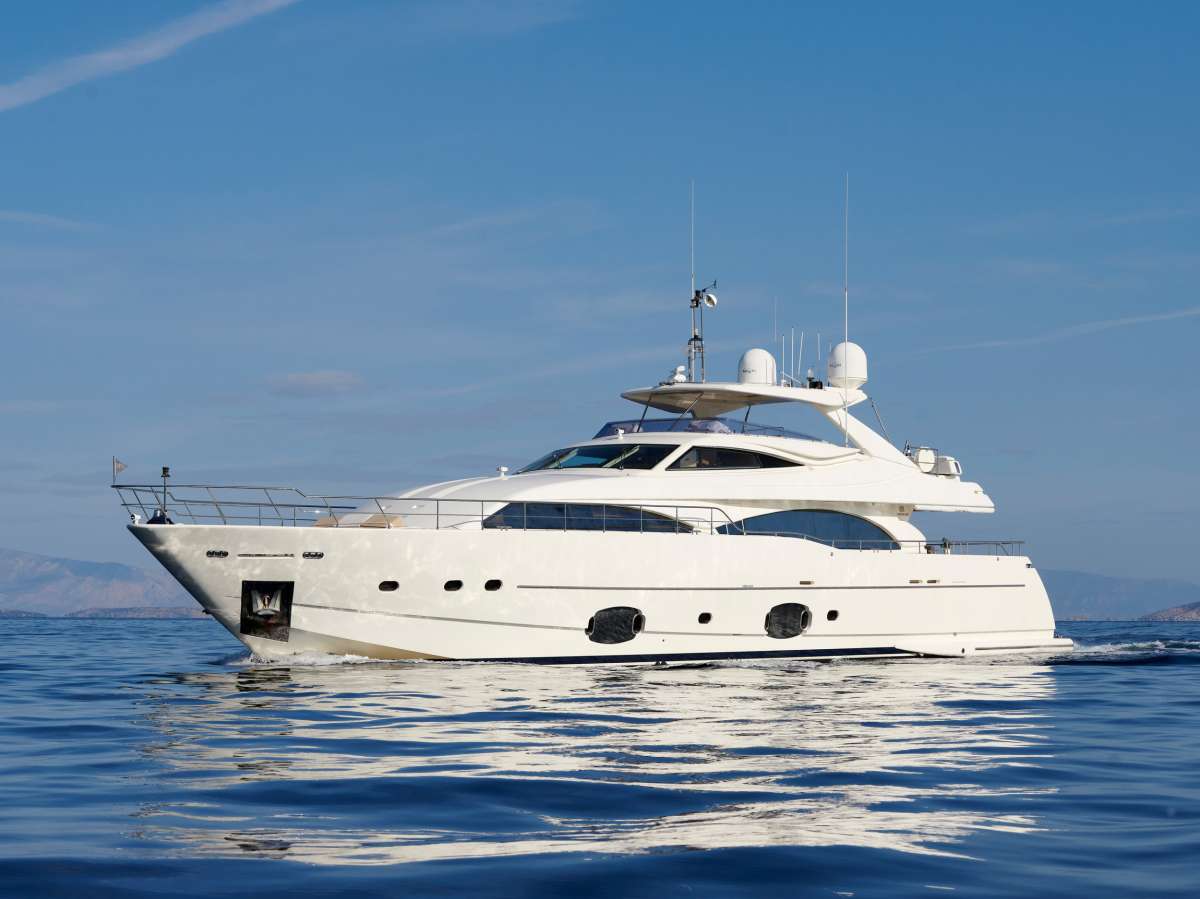 Low Price: €55,000 High Price: €68,000
Accommodations: 10 guests in 5 cabins with ensuite bathrooms
Very large panoramic windows with electric blinds in all cabins.
Master Cabin is situated on main deck and features a 2 seater sofa and a work desk
Master cabin and twin cabins have walk-in wardrobes, vanity units and chair.
All cabins have TV with DVD and satellite connection.
All cabins have carpetted floors.
Amenities
Dinghy Size:
1 x 4.30m Nouvrania tender with 70hp Yamaha 4-stroke outboard
Dinghy Size:
1 x 4.30m Nouvrania tender with 70hp Yamaha 4-stroke outboard
Water Sports
Crew Details
Panagiotis Inzirtzis:
Captain Panagiotis counts 14 years of experience as a yacht master in the Mediterranean Sea. Before joining the yachting industry, he was a Chief Officer at the Hellenic Merchant Navy with 7 years of service on board freighters as well as 2 years on coastal patrol vessels. He is a man of many talents and his passion in fishing has earned him many distinctions throughout the years. He is an expert guide at free diving and deep-water fishing with numerous records as well as publications in magazines. Panagiotis has a warm personality loved by guests on board, and his patience is his strongest attribute. As a knowledgeable seaman, he knows the best coasts for swimming and cruising, having spent 15 years with the same owner of a 30m yacht, cruising the Greek archipelago. And if the guests love fresh fish, Captain Panagiotis will catch the most delicious fish for lunch or dinner on board! For leisure, he loves swimming, gardening and spending time with his family. He speaks both Greek and English.

Stelios Thiakos
Chef
Greek
Stelios is a graduate of IEK AKMI, a private vocational institute in Greece, and holds a diploma in cooking from the Chef d'Oeuvre, a specialised school of Gastronomy. He has a near 2-decade experience in the food industry, including plenty of fine restaurants. For the past 5 years, he has been cooking his specialties on board luxurious motor yachts, both private and charter and has amazed guests with his creativity and wide range of dishes. Stelios deeply knows the Greek culinary tradition as well as international cuisine and is always striving to exceed guest expectations. He has attended numerous seminars such as Asian Master classes and Sous Vide as part of his passion for learning new cooking techniques to advance his art. He loves martial arts and holds a licence from the Krav Maga Federation. Join him on board Pareakki and indulge in memorable dining experiences.
Previous Yachts: M/Y SOLARIS, S/Y ELLEN V

Liliana Mazilescu
Chief Stewardess
Romanian
Born in 1988, Lilly is highly experienced as a charter and private stewardess that has worked solo as well as part of an interior team of up to 10 on yachts ranging from 30 to 65m. She comes from a strong hospitality background having experience and skills in all areas of the industry, from front of house, cocktail and coffee making, to silver-service, child care, bartending and housekeeping. She is an excellent communicator, with a great eye for detail. She arrived on PAREAKKI in 2021 and her easygoing and welcoming character blended with the rest of the crew immediately. She speaks English, Greek and Romanian.
PREVIOUS YACHTS: M/Y INSIGNIA, M/Y AURORA, M/Y CEDAR SEA II.

Artan (Aris) Kocli
Deckhand
Αlbanian
Aris was born in Albania in 1971. He came to Athens in 1991 and his love for the sea, soon brought him to the
yachting industry to work as a deckhand on-board the sailing yacht Eliana in 1998. Since then, he has expanded his knowledge and experience with a few different style boats, from motor-sailers to motor yachts. Aris joined the team in 2018, working for the same owner on m/y Pareaki, before moving to Pareaki II. He holds a Speedboat licence, has a friendly but discreet personality and is an excellent team player.

Christos Malagkoniaris

Engineer
 - Greek

Christos was born in Athens in 1986. He holds a B'class Engineer Diploma and has been involved with the. yachting industry since 2005. He is a great team player, with a friendly and inviting personality and always strives to improve his knowledge. He is the coffee
specialist on the boat, as well as taking care of the onboard technology. He speaks English.
Previous Yachts: m/y LUCKY ME, m/y ZOI,