Greece Power Yachts
Luxury Greece Power yachts above 150 Feet
Greece charters offers some of the most beautiful and luxurious power yachts in the world. The Greek yachts featured below are all above 150 Feet and are available for your Greek sailing adventure. We welcome you to select any of the yachts and we will provide you with all the necessary information to help you decide on the best yacht for your Greece yacht charter vacation.
IDYLLE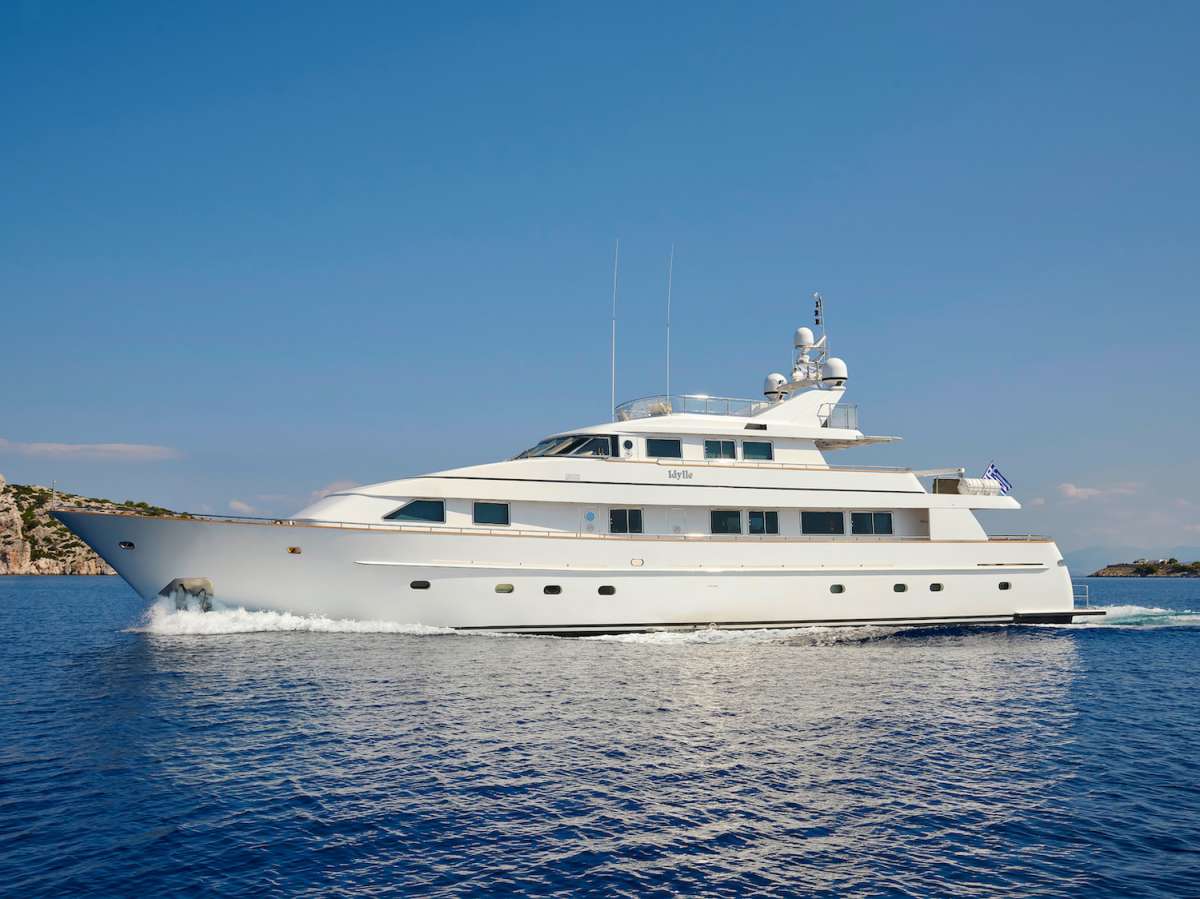 Low Price: €65,000 High Price: €77,000
Accommodations: Main deck: One Master cabin with King size bed and walk-in closet

Lower deck: Two VIP cabins with Queen size beds
Two twin cabins

All cabins with en suite facilities.

Crew accommodation for eight crew members in separate quarters
Amenities
Water Sports
Other Toys: 1 x Tender Zodiac Medline New Line 540 with Yamaha 100hp engine
1 x Jet ski Sea-Doo RTX 260 RS
2 x Seabob F5 Basic
1 x Sea Scooter Yamaha 350Li
1 x Inflatable SUP Jobe Yarra 10.6
1 x SUP Aqua Marina Beast All-Around
1 x Jobe Lunar Sofa (for 3 persons)
2 x Jobe Crusher Towable (for 1 person)
1 x Jobe Hemi Trainer Waterski
1 x Jobe Mode Combo Waterski 67''
1 x HO Sports Freeride Waterski 69''
1 x Wakeboard
1 x Jobe Infinity Island (extension of the swimming platform)
Snorkeling & basic fishing equipment
Seabeds, chairs and umbrella for the beach
Other Toys: Audio Visual Equipment and Deck Facilities:
Home theatre system in the Main saloon, sundeck and Master cabin
SONOS / BOSE visual and audio systems overall
LED TVs in the saloon with DVD players
Separate satellite smart TVs in each cabin
A variety of modern board games
Video and music library

Gym Equipment:
∙ Weights
∙ Yoga mats
*upon request
Communications: VHF,
SSB,
SAT phone,
GSM
Crew Details
Captain: Michalis Tsampas (Greek)
Captain Michalis is 35 years old and has graduated from the Merchant Marine Academy of Cephalonia, holding a Class B' Captain's Diploma and a Speed Boat License. He started his career as a deckhand in fishing boats, but his strong passion to achieve his goals helped him escalate quickly and finally become a wonderful Captain onboard super yachts. He is a very decisive person knowing how to earn the respect and guide his crew. Captain Michalis will try his best to ensure the guests' pleasure and will find the most wonderful beaches for dream swimming. In his free time, he loves swimming and doing every kind of water sports. Speaks Greek and English.

Engineer: Ilias Latsis (Greek)
Ilias is 37 years old and has graduated from the Merchant Marine Academy, holding a Class C' Engineer's Diploma. He also holds a High Speed Craft Certificate and a Certificate of Proficiency in Life Saving and Fire Fighting. With a significant technical experience onboard motor vessels, he decided to make a new beginning in the exciting yachting world. With high-level professionalism, strong communication skills and highly motivated, he will pamper the guests to the fullest and make sure that they will have a safe and smooth charter. In his free time, Ilias likes hiking and travelling. Speaks Greek and English.

Chef: Thanasis Kiritsis (Greek)
Thanasis is 38 years old and he is a highly motivated professional and experienced Chef. He started his career in the family business which was a pastry shop. In his past experience, he has also worked both in high-end hotels and restaurants as Sous Chef and Chef. Additionally, Thanasis is the Owner of his own pastry shop, as he wanted to continue the family tradition and sweets were always his great passion. With a strong know-how of the Mediterranean cuisine, the guests will taste delicious dishes and Greek specialties. Thanasis never stops evolving further his knowledge and he continuously looks for new recipes and tastes. When not working, he likes sailing and exercising. Speaks Greek and English.

Chief Stewardess: Tatiana Gorokhova (Ukrainian)
Tatiana is 40 years old and holds a Degree from the Kharkiv College of Mechanical Engineering. Her interest for interaction in multicultural environment and her communicative character led her to start her career in 2015 in cruise ships until 2018, when she joined the yachting industry. Since then, she continues to provide high quality service with great enthusiasm. Her pleasant personality along with her team spirit and adjustability will guarantee that the guests will have a great time during their charter. Tatiana will ensure for the guests carefree vacation and will help them create beautiful memories. In her free time, she enjoys spending time with her friends. Speaks English and Russian.

Stewardess: Chrisoula Konstantinou (Greek)
Chrisoula is 41 years old and she holds a Degree in Pastry and Bakery. Her passion for the sea and the allure of new experiences led her into the yachting industry few years ago. Her positive attitude and her cheerful character will guarantee a wonderful charter experience for the guests, who will be fully satisfied by her excellent service. When not working, Chrisoula likes spending time with her child and listening to music. Speaks Greek and English.

Deckhand: Christos Maltezos (Greek)
Christos is 42 years old and holds a Bosun's License and a Speed Boat Diploma. His extensive knowledge includes fire fighting and life saving techniques. Due to a strong desire to be near the sea, he started his career as a deckhand in 2016. Since then, his main priority is to make the guests feel like home and take care of their needs. He is very patient and always with a smile on his face. In his spare time, Christos likes sailing and doing water sports. Speaks Greek and English.

Deckhand: George Markakis (Greek)
George is 36 years old and holds a Bosun's License, a Speed Boat Diploma and a Diving Certificate. His love for travelling and meeting new people made him pursue a career in the yachting industry in 2013 and since then, he keeps doing what he was destined for. He is a very active person, always willing to help the others and he will ensure the guests' safety onboard. In his free time, George likes going to the cinema or doing every kind of water sport. Speaks Greek and English.