Greece Power Yachts
Luxury Greece Power yachts above 150 Feet
Greece charters offers some of the most beautiful and luxurious power yachts in the world. The Greek yachts featured below are all above 150 Feet and are available for your Greek sailing adventure. We welcome you to select any of the yachts and we will provide you with all the necessary information to help you decide on the best yacht for your Greece yacht charter vacation.
ARIA C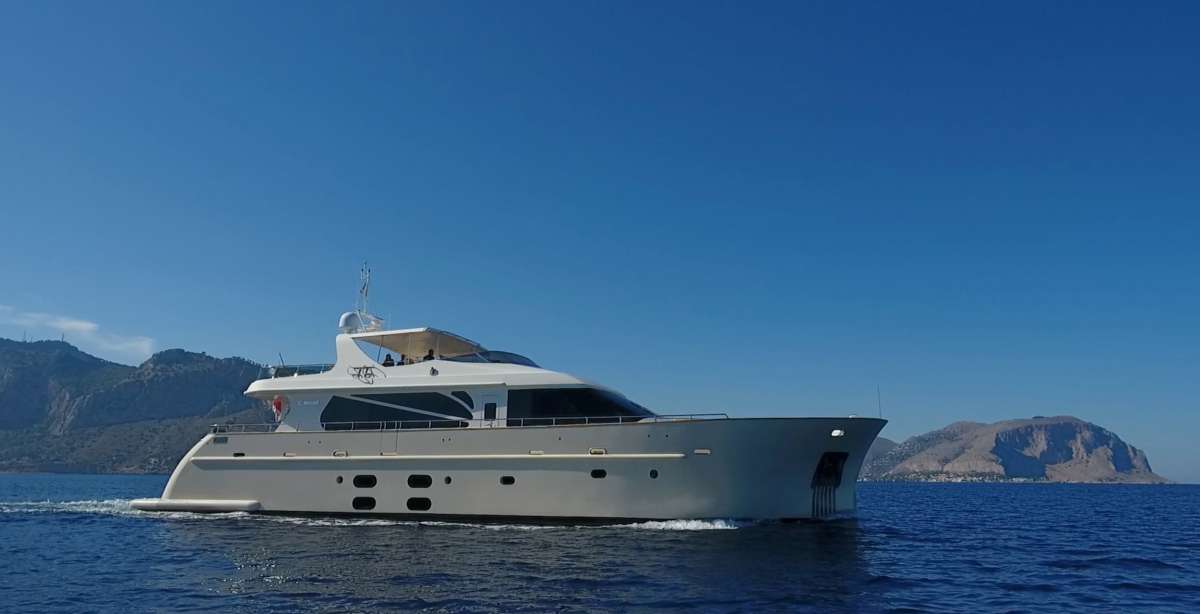 Low Price: €38,500 High Price: €52,500
Accommodations:
ARIA boasts spaces incomparable for a vessel of that size! 3 double bedded cabins and 2 twins. Each cabin has its own bathroom, desk, TV and safe.
Amenities
Water Sports
Other Toys: Tender BVA 4,30 m + Suzuki 40Hp,
Waterskis,
Towable inflatable toys, 2 inflatable SUPs,
2 Seedoos ( Jet skis ) , 1 Canoe
Jelly fish protection
Other Toys: Video system and Sky decoder in each cabin
Bose Dolby surround system in saloon.
Crew Details
CAPTAIN: Enrico Randazzo
He is a commercially endorsed Captain, with thousands of miles logged on vessels between 18 and 30 mts. Enrico is passionate about sailing since when he was 9 years old, when he started to race, obtaining several national and international prizes. He is Federal Instructor (1st and 2nd Level). He has a great experience on charter yachts, collaborating since many years with BR1 Management, and working as Captain on commercial vessels since longtime. Before to join ARIA, he has been Captain of WHALE, and previously of a Maxi Dolphin, participating also to the International Mini-Maxi Regatta in Porto Cervo. He speaks Italian and English. He is very reserved but with a sunny character, able to relate with his guests in excellent manner, and very skilled in creating a real team spirit among the crew.
CHEF: Massimiliano Provenzano, extraordinary Chef!
born in Palermo in 1985, he is an expert Chef, with several Masters and High Cuisine Certificates. He has a great passion: the secret of Mediterranean flavours.
In 2007 he fell in love with sailing and thanks to this passion, since then he has been working on board of different yachts, collaborating with a management Maltese company (BR1 Yacht Management & Crew Recruitment)
For the past five years he has been appointed as Chef on My Lotty, where several repeat clients are coming even twice a year onboard, just because of Massimiliano cuisine! This year he moved on ARIA, but very happy to work always with the same management team. Always eager to start the new season, to prepare new recipes for his guests tested during the winter, either traditional or personalized exquisite Mediterranean style. Very early, every morning, he is going to the local markets, to select the best fresh and local products
HOSTESS: Clara Greco
Native to Pantelleria, wild island in the middle of the Mediterranean Sea. She started to sail since when she was a kid, with her grandfather on traditional local boats called "lance pantesche". Her love for the sea grew up and thanks to her great attitude for hospitality and hotellerie, she decided to move to the yachting industry. In 2016 she attended the Maritime Courses organised by BR1 Management in Malta, which is the Management company for ARIA. In the winter 2017-2018 she attended the Winter Training, showing great skills in tender manoeuvring and assisting the rest of the crew on any onboard operation. She speak Italian and an excellent English. Always smiling, sweet character, she is happy to pamper her guests and to understand any clients' need before they ask for...
DECKHAND:
Gianluca Scalavino, born in Palermo. Young but with excellent maritime skills. He graduated at the Nautical High School, very motivated and dedicated to any sea activity.
He is a great support for the Captain, for any type of necessity or work onboard. Extraordinary tender Driver. He attended the Winter Training with BR1 Management in Malta in 2017-2018. He speaks Italian and English.
2nd HOSTESS:
Beatrice Bossolo, born in Palermo and fully in love with sea and yachting industry. She worked as Main Hostess on the sailing yacht TESS in the past season, taking care of guests from different nationalities. She is a sunny girl, always smiling and showing her happiness in working in the world of yachting. She is a great "jolly" for the rest of the crew, being able to take care of any necessity onboard, from house-keeping, table service or tender driving. She speaks a good English.
Maritime Course in Malta in winter 2017-2018