Luxury Greece Catamarans
Luxury Greece catamarans for charter
Greece charters offers some of the most elegant catamarans in the world. The Greek catamarans featured below are all available for your Greek catamaran vacation. We welcome you to select any of the catamarans and we will provide you with all the necessary information to help you decide on the best catamaran for your Greece yacht charter.
MADININA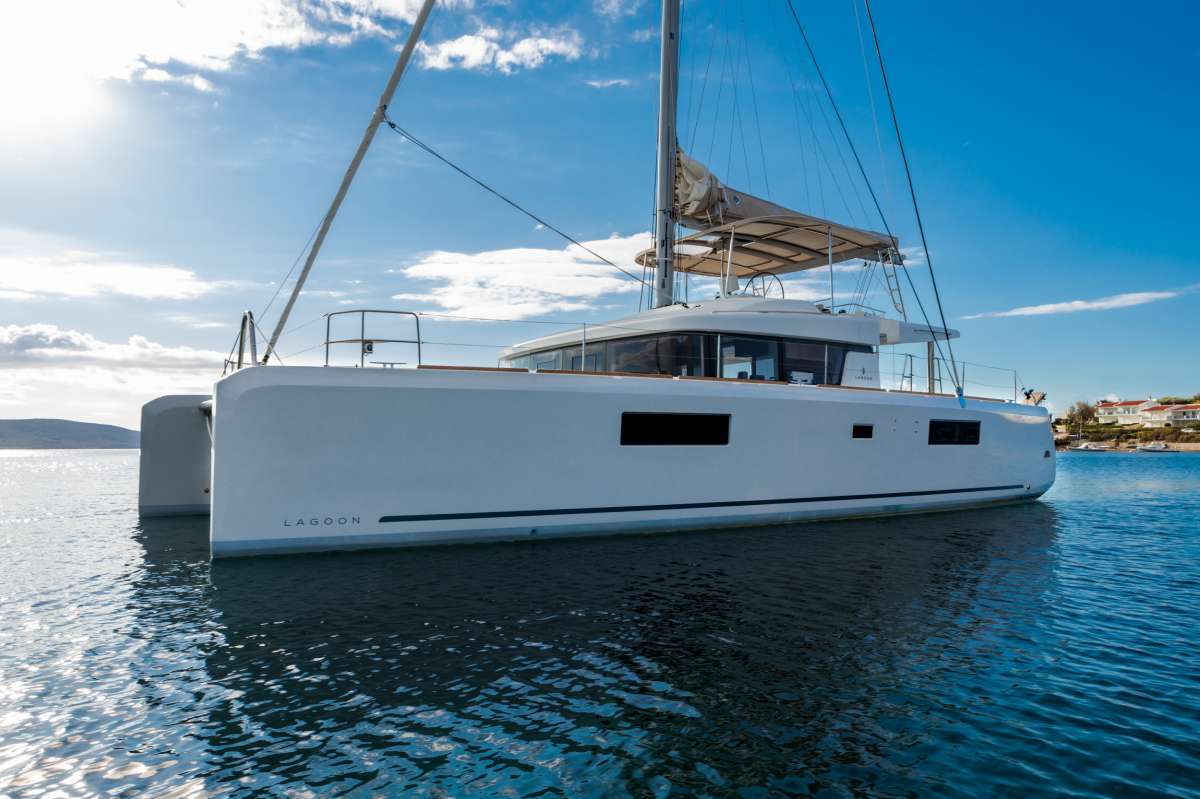 Low Price: €15,000 High Price: €19,000
Accommodations: 1 MASTER SUITE, 1 VIP CABIN, 2 QUEEN BED GUEST CABINS, ALL WITH PRIVATE BATHROOMS.
ALL CABINS ARE AIR - CONDITIONED
CREW IN SEPERATE CABINS
Amenities
Guest Smokes:
outdoor areas
Generator:
ONAN GENSET 17,5Kva 1500rpm 22
Water Capacity:
4 x 240 l
Dinghy Size:
Highfield 390 sport
Water Capacity:
4 x 240 l
Dinghy Size:
Highfield 390 sport
Water Sports
Other Toys:
HYDRAULIC BATHING PLATFORM
Other Toys: Shower gel, shampoo, hand soap
washing machine/ dryer
4 pillows for each bed

Communications: Wi-Fi
Laptop
Printer
Crew Details
Captain: Clement Kalliabetsos
Clement is a young and energetic captain born in 1982. He is of French/Greek origin and therefore can appreciate the different cultures and speak both Greek and French like a native speaker, as well as fluent English. Before joining the industry in 2016, he completed a bachelor's degree in Chemistry as well as in Music Technology and Acoustic Engineering. After working in these fields as a teacher and sound technician in concerts, he discovered a different passion. He obtained his sailing diploma in 2015, became a diver in 2016 and since then, he was hooked to the sea. Over the years, he has worked as a skipper in charter companies and for private yachts in the Mediterranean and in the Caribbean and could gain sailing experience in different types of yachts, in maintenance and in the life at sea crossing the Atlantic. He has excellent organizational and communication skills, is attentive to his guests on board, and safety-oriented. He is adaptable, reliable and a patient teacher when it comes to sailing and in dealing with his crew. In his spare time he likes diving, rock climbing, kiteboarding, playing the guitar, photography, and cooking.

Cook: Vasilina Kouliou
Vasilina was born in 1994 in Greece. She is a creative individual, having studied Art at the School of Visual and Applied Arts in Thessaloniki. She has worked as a screenwriter, costume designer, set designer for TV shows and is familiar with the show business. In 2018 she decided to enrich her life by expanding her horizons and combining her passion for food and the sea. She obtained her sailing diploma and started working as a cook and hostess for different charter companies in Greece. Within only 2 seasons, she has mastered and expanded her cooking skills, has learned all the sailing secrets and is ready to start her new adventure on S/Y Madinina. She is adaptable, hard-working and creative in her cooking. She is a positive person and does her job always with a smile on her face! She specializes in healthy Mediterranean cuisine and loves to learn new cooking techniques and create delicious desserts! When she is not in the kitchen, she loves yoga, rock climbing, booking binding, and singing. She speaks Greek and English.

Deckhand: Dimosthenis Perivoliotis
Dimosthenis was born in 2002 in Greece. He is currently studying at the University of Thessaly in Volos at the department of culture, creative media & industries. He has been sailing since he was five years old. He is experienced not only in inshore but also in offshore racing sailing. He has worked with different chartering companies for the past three years and was a crew member for sailing boat transports from France to Greece through the Atlantic Ocean. He has attained offshore sailing as well as a diving diploma. He is a positive, adaptable, polite, and open-minded, communicative person. In his free time, he enjoys diving, photography, listening to music, exercising, and more. He speaks native Greek and fluent English.