Greece Sailing Yachts
Luxury Greece Sailing yachts Over 100 Feet
Greece charters offers some of the most elegant and sleek sailing yachts in the world. The Greek sailing yachts featured below are above 100 Feet and are all available for your Greek sailing vacation. We welcome you to select any of the yachts and we will provide you with all the necessary information to help you decide on the best sailing yacht for your Greece yacht charter.
ZELDA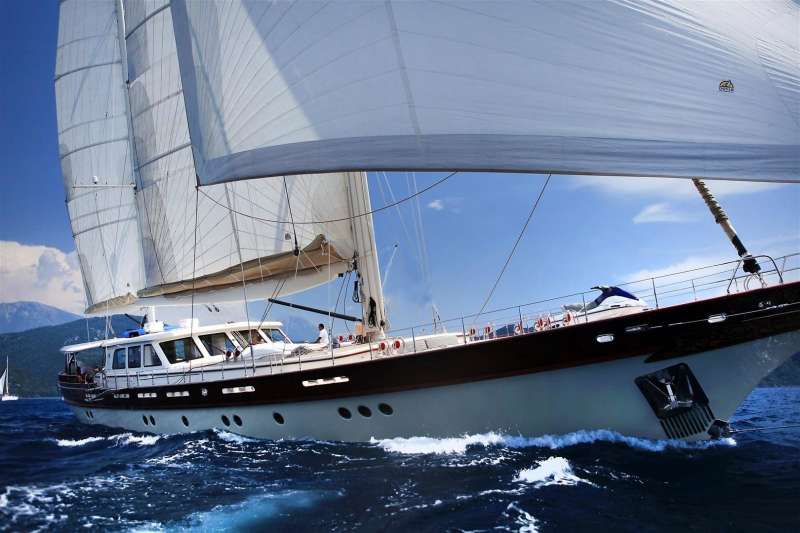 Low Price: €45,000 High Price: €56,000
Accommodations: Master cabin with King size bed , two VIP cabins with queen size beds and two guest cabins with double beds all with ensuite facilities, located on the lower deck.
Bed sizes
Master Cabin 2.00m*2.00m
VIP Cabins 2.00m*1.70m
Double Cabins 1.90m*1.40m
Amenities
Water Sports
Other Toys: 4.9m Zodiac Tender 100 hp,
3m Zodiac Tender 15hp,
Water Ski
Mono Ski
Wakeboard
Subwing
2 x rings for 1 pax
Ring for 3 pax
Banana
2 x SUP
Snorkeling & Fishing Equipment
A waverunner can be rented in extra and installed on the fore deck. The operator should have the appropriate license and meet local regulations
Other Toys: Bose Lifestyle 38 system in saloon with separate in aft deck
TV + DVD in the saloon and in the cabins
Projector for movie nights at aft deck
Seatel Satellite television receiver
iPod stations
BBQ
Communications: Panasonic PABX exchange with 3G GSM
Internet-WiFi with Sailor 250 Fleet Broadband
Inmarsat C System, Mini-C
Crew Details
Name: Rafet Kavak
Position: Captain
Nationality: Turkish
Having grown up on the seaside, Rafet has always been passionate by water activities. Graduated from the
İstanbul Maritime University, Rafet has worked on various commercial vessels to become a licensed Officer of
the Watch Unlimited before joining the yachting industry. After having worked on sailing yachts, Rafet joined
Zelda in 2018, and has now been promoted as Captain, progressing in his career. Rafet possesses a true talent
to empathizing well with his crew to achieve the best performance and a high level of customer satisfaction. Rafet
experience includes many nautical miles and hundreds of routes in Turkey, the Greek Islands and Croatia and is
always proud to make his guests experience the best anchorages in pristine bays and turquoise waters. He speaks fluent English and Turkish

Name: Yusuf Cesur
Position: First officer / Engineer
Nationality: Turkish
Age: 46
Yusuf has been with Zelda since 2009. Prior to joining the yachting Industry, he has spent 12 years as a certified
tour guide. Proficient in English and German, Yusuf primarily cares about offering a high level of service and
customer satisfaction. Due to this past experience, he his always keen to share with the guests historical,
geographical and cultural information about the visited places. Yusuf speaks English, German and Turkish.

Name: Cakir Ilyas
Position: Chef
Nationality: Turkish
Born in Antalya, Cakir has been working for 15 years in 5 star hotels and gourmet restaurants, offering French and Italian cuisine. In 2009, Cakir has moved to the yachting industry andhas been chef on M/S Serenity (27m), M/Y Ma Beach (37m), M/Y Eque (47m), M/Y Jefatica and M/Y Sunkiss (38m).Cakir joins Zelda for the 2019 season. From traditional Turkish mezzes to western cuisine served at the plate, Cakir prepares meals with the utmost high quality in freshness, taste, presentation, and execution.
He is skilled in a large variety of cuisine, including Ottoman, French, Italian, Mediterranean and Asian cuisineas well as special dietary like Vegan or Gluten Free cuisine. Cakir is 39 years old, speaks Turkish, English and Russian and is always pleased to share his passion for cuisine with the guests.

Name: Altinay Baisakova
Position: Chief Stewardess
Nationality: Kyrgyzstanian
Altınay was born in Kyrgyzstan and she is 23 years old. She is living inTurkey for 3 yearsand she has worked as astewardess in 30m M/Y Skazka. She joined M/S Zelda in 2020 season as Chief stewardess managing the interior team.Excelling in service, she is a very generous person. Altınay likes to provide to all guests a unique and memorable timeon board and make them feel relaxed and well catered at all times. Altınay speaks Russian, English, Turkish andher mother language Kyrgyz. Altınay has passion for traveling and the sea.

Name: Emel Cesur
Position: 2nd Stewardess
Nationality: Turkish
Born in Fethiye / Turkey, Emel joined M/S Zelda in 2020 as 2nd stewardess. Her main duties are housekeeping,ensuring the interior is well kept at all times and to assist the service and the kitchen.
She is always pleased to provide to the guests the highest level of service with a big smile.
She can also provide manicure, pedicure and eyebrow design services.Emel speaks English and Turkish.

Name: Mevican Yavuz Tarakci
Position: Deckhand
Nationality: Turkish
Mevican joined M/S Zelda in 2020. His passion for the sea and his excitement carried him to this occupation.His biggest dream and desire is to travel the world, an occasion that comes with aforesaid profession. Hiis principle is to overcome the problems with mutual respect and team spirit.
He loves to learn and to develop himself in every field required for his job.He speaks Englısh, French and Turkish.