Greece Sailing Yachts
Luxury Greece Sailing yachts Over 100 Feet
Greece charters offers some of the most elegant and sleek sailing yachts in the world. The Greek sailing yachts featured below are above 100 Feet and are all available for your Greek sailing vacation. We welcome you to select any of the yachts and we will provide you with all the necessary information to help you decide on the best sailing yacht for your Greece yacht charter.
BELLACHA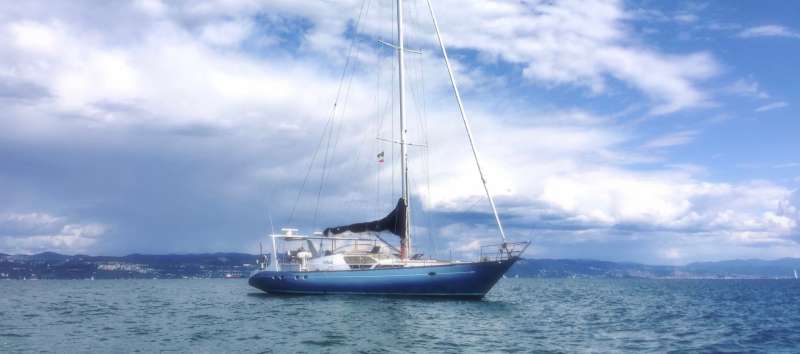 Low Price: €11,500 High Price: €16,500
Accommodations: 1 aft cabin with queen berth
2 identical twins wiith one fixed bunk, one fold down bunk and two single berths that can convert to a queen size berth. Total guest capacity 6-10. Guest toiletries provided.
Crew is captain and chef/deckhand with our own accommodation forward of the galley.
Amenities
Water Sports
Other Toys: Note on versatile accommodations - Total guest capacity 6-10:
-1 aft cabin with queen size berth
-2 identical twins with one fixed bunk, one fold down bunk and two single berths that can convert to a queen size berth.
Communications:
1GB internet data per day, where coverage is available.
Crew Details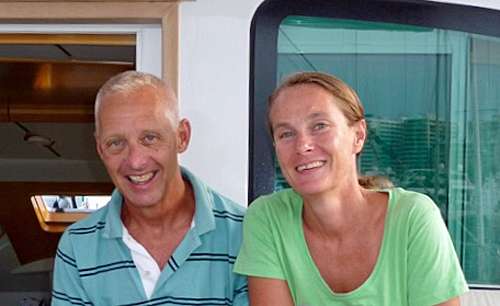 CAPTAIN DANNY ROBINSON
Danny has always loved sailing, it's in his blood. As a small child he was inspired by his Dad. Sailing was a passion they both shared. He recalls, "I started dinghy sailing aged eight, when Dad purchased a mirror dinghy kit that we built together. We started to race together right away." No doubt, this close bond with his Dad led to his enjoyment in having kids on board today. He says he loves their energy. "Happy kids and happy parents."

Danny's nautical accomplishments began early. He was a keen racer in the Enterprise dinghy class, youth division and won many events. At 14, he became the UK Youth National Champion. He went on to enjoy a naval career in the UK Merchant Navy as a Marine Engineer. He attended Leith Nautical College, Edinburgh, Scotland and UKSA in Cowes, obtaining naval engineering and sailing qualifications, respectively.

In addition to a remarkable navy career, Danny is a professionally qualified yacht captain with a commercial endorsement and 30 years of experience. He has captained private sailing yachts, catamarans and charter yachts. He was a Flotilla Captain for eight summer seasons in Turkey and Greece. The Ionian Islands are favorite cruising grounds. He's definitely a serious sailor, but he's also funny, enthusiastic, energetic and fun. He is a gentle instructor for those who want to learn something new, and a delightfully entertaining host.

Danny and his wife Lisa are both highly experienced in the marine industry. From 1995-2005 they operated their own charter sailing yacht, an Irwin 52, in Turkey, Greece, Montenegro and Croatia .Since 2005, they've worked together as professional yacht crew for private owners in the Mediterranean and the Pacific. Today, they are thrilled to host charters aboard their beautiful, Italian-built, custom-designed, 70' sloop, BELLACHA.

MATE/COOK LISA ROBINSON
Lisa was born in a land-locked, village in East Sussex , England, called Wadhurst. So, it was by a strange stroke of luck that she learned to sail. She recalls that when she was very young, work began to construct a reservoir by damming and then flooding a valley about 20 minutes from her home. Bewl Water was created, which is now the largest body of inland water in south east England. She says, "The new reservoir gave me the chance to learn dinghy sailing. I started sailing Optimists, then moved on to the Mirror, the Topper, the fireball ,and finally got onto windsurfing." Thus, her lifelong passion for sailing began.

After finishing school, Lisa studied interior design at the London School of Furniture. She worked weekends in local gastro pubs, picking up cooking tips in the kitchens and serving tables. After receiving her diploma, she went to work for Neilson Holidays. She says, "Working for Neilson gave me a great base in the hospitality industry. I gained my dinghy and windsurf instructor certification and a lot of experience teaching sailing. Also, for two winter seasons, I was both managing and cooking in ski chalets in Italy and Austria."

"My inspiration and passion are for Mediterranean cuisine using fresh, local, and when available, organic produce. My cooking style reflects my extensive experience cooking in Turkey, Greece, Croatia, Italy and Spain. My guests' favorites are fresh lobster & seafood pasta. My personal favorite foods are fresh juices and whole foods."

While Lisa specializes in Mediterranean cuisine, she also excels in preparing restricted menus including Kosher, allergy-free, vegetarian, vegan and gluten free meals. Lisa values an active lifestyle and a healthy diet. She believes in the health properties of individual foods and vegetables including 'super foods. Her goal is to delight guests aboard BELLACHA with cuisine that not only tastes amazing, it makes them feel amazing as well.