Greece Sailing Yachts
Luxury Greece Sailing yachts Over 100 Feet
Greece charters offers some of the most elegant and sleek sailing yachts in the world. The Greek sailing yachts featured below are above 100 Feet and are all available for your Greek sailing vacation. We welcome you to select any of the yachts and we will provide you with all the necessary information to help you decide on the best sailing yacht for your Greece yacht charter.
BLUE DREAM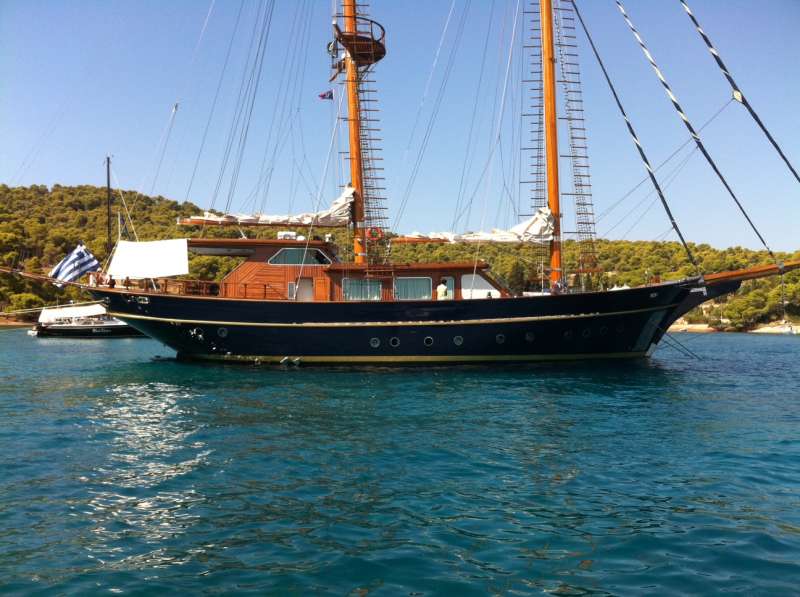 Low Price: €30,000 High Price: €35,000
Amenities
Guest Smokes:
ONLY AT THE STERN
Generator:
2 X NORTHERN LIGHT
Water Capacity:
4.000 LIT
Dinghy Size:
NOVURANIA 3.9 METER
Water Capacity:
4.000 LIT
Dinghy Size:
NOVURANIA 3.9 METER
Water Sports
Gear Type:
BETONIA FISHING ROD
Crew Details
Crew profile - M/S Blue Dream

CAPTAIN Pantelis C. Arvanitis
I speak Greek, English and French
After my military service in the Hellenic Naval Forces in 1983, I start sailing as skipper on sail boats for charter, several times as racer in Aegean Rally regatta and executing transportations of sail and motor yachts between Mediterranean Sea countries for delivering to their new owners. I have unofficially instructed in Sailing Schools in Alimos and also newbie motor yachts owners and motor vessel's seamen who wanted switch to sail yachts. Since 1999, I entered into the bigger category, «super» or «mega» Yachts under private and commercial state. For over 10 years I was the owner and skipper of S/Y Desmos - Beneteau First 456 14 years of racing on Extra Beat not OneLiLo a A&R build.
Now I am the captain on Blue Dream and looking forward welcoming your clients and guests for the best sailing trip around Greece and Turkey!

Cook Maria Pakidi

I speak Greek & English

Since 2004 till present, I have extensive experience on board throughout the world, with many charters based on one or two weeks contacts in professional yacht services both in sailing yachts and motor yachts as a cook. Cooking is one of my passions with specialty in Greek and Mediterranean Cuisine with good patisserie. I enjoy traveling and to discover new cultures.
I think I come across with a friendly personality, but also as a dynamic person. I am a bit of a perfectionist in my work and I believe strongly in teamwork and the ability to deliver to deadlines. I love to create and trust I have a creative flair. I have years of experience with many charters. Good communication skills and ability of understanding customers' need is what brings a successful charter. Clear understanding that the most important people are the clients. After all, a yacht is a platform for the enjoyment of the people who use it."
I want to surprise and excite the taste buds of our guests.




Stewardess - Tatiana Yatsenko

I speak Russian, Greek and English

I am the Stewardess onboard Blue Dream with many years of yachting experience behind me on mega yachts over 50m. This time I am enjoying a smaller team on a beautiful yacht. I am very organised by nature and an active person who enjoys a challenge. For me after meeting my Greek husband it was a natural transition to join the yachting industry as a career to enable me to engage in my passion of travelling and meeting new people in the summer and having a quieter family life in the winter.
For me a successful charter comes with a good team onboard sharing the feeling of being a family and giving the best possible service to all the guests.

Deck/engineer – Tasos Kalovolos
I speak Greek and English

I have 2 important function on Blue Dream, being the second after the captain and an engineer. I am Greek and even if I am not yet well-traveled I have a real passion for anything above or below the water. I enjoy motor bikes and been pulling most engines apart since I was young. I enjoy keeping fit and practice kick boxing amongst many other sports.


Welcome onboard BLUE DREAM!