Greece Power Yachts
Luxury Greece Power yachts above 150 Feet
Greece charters offers some of the most beautiful and luxurious power yachts in the world. The Greek yachts featured below are all above 150 Feet and are available for your Greek sailing adventure. We welcome you to select any of the yachts and we will provide you with all the necessary information to help you decide on the best yacht for your Greece yacht charter vacation.
O'MEGA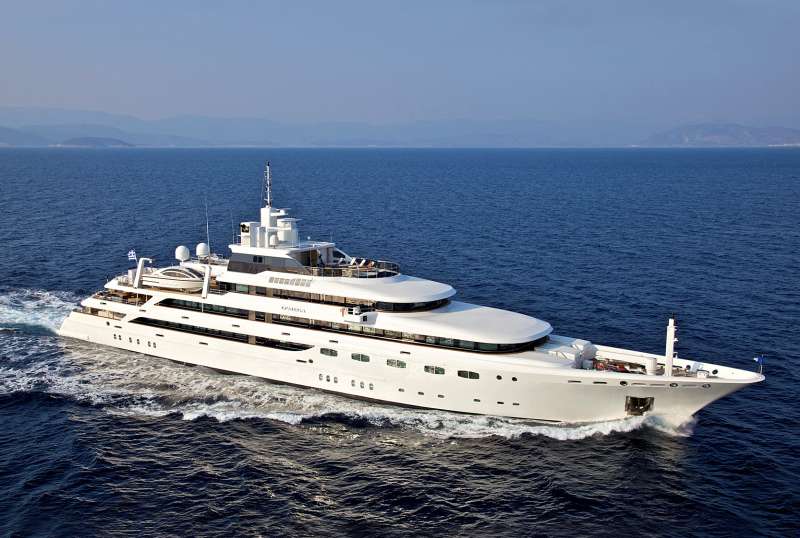 Low Price: €550,000 High Price: €550,000
Accommodations:
Master suite with a king size bed. Five VIP cabins with queen size beds. Five double-bedded cabins. Four twin-bedded cabins. All cabins are fitted with Plasma Monitors and Home Theatre systems.
Amenities
Guest Smokes:
On deck only
Water Sports
Boarding Ladder:
Stern and Side
Other Toys: 2 x 9.2m Fassmer enclosed life boat/limousine tender with air conditioning, audio equipment and leather upholstery for 22 guests (one tender in use at a time)
1 custom 6m RIB for 7 guests
1 x Jet Ski Sea Doo GTX 260 limited edition 2 Guests
1 x Jet Ski Sea Doo RXP-X 260 2 Guests
1 x Jet Ski Kawasaki ZXI 900 2 Guests
Water Skis (Mono/Double/Children's)
Tows
2 x Nuclear Globes
Wakeboards
Snorkeling Equipment
Scuba Gear (4 sets) and Compressor
Other Toys: All salons are fitted with Plasma Monitors and Home Theatre systems.
Cinema room with 65 inch screen seating 8 guests in La-Z-Boy armchairs
Wii/Playstation 3 + games
CD/DVD Library
Plasma screens throughout
Dolby stereo surround sound + DVD + CD in all cabins
Retractable Swimming Platform
Jacuzzi
Beauty Salon/Massage Room
Communications: SATCOM (Voice-Fax-Data)
GSM (Voice-Fax-Data)
SSB Transceiever
VHF Radio, Internal Telephones, Autopilot, GMDFSS, Colour Radar, Colour Echo Sounder, Gyro Compass/Plotter/GPS, Nasvtex Weather Fax.
Personal Computer - Internet/E-mail
High Speed Wireless Internet through VSAT broadband service, Inmarsat C, Inmarsat F77, VHF-DSC, GMDSS, Navtex Receiver
Crew Details
Master - Dimitris Argirakis
Dimitris was born in Greece in 1961. We are delighted to have Captain Dimitris as the master of our team. He started his career in 1979 as a youngster on board the cruise ship Pegasus of Royal Olympic Cruises. He remained with the company for 22a years having attained the position of Captain Class A in 1995. His experience on the high seas is extensive having travelled worldwide. In 2003 he joined the O'Mega and although we lost him for a few years to Royal Olympic, we are thrilled to have him back with us. His devotion to his work ensures the safety and happiness of our guests. His hobbies are diving and skiing.

Chief Engineer - Makis Mandolas,
Makis was born in 1958. He finished the Merchant Marine Accademy of Greece in 1980 and has ever since been on passenger vessels. He has been with us since the beginning of the major refit in 2009 and needless to say knows the yacht back to front. I asked him what his hobbies are and his responses was anything mechanical!!!

2nd Engineer - Alexandros Panagiotopoulos
Alexandros was born in Greece and entered yachting in 2004. Having completed his marine studies, graduating from the Mercantile Marine Academy of Skaramaga (Greece) in 1976, he commenced his career as a third engineer in shipping in 1982, an industry where he remained for more than 20 years. Alexandros is highly experienced and hard working. He loves to read, listen to music and is a cinema enthusiast.

Hotel Manager - Yiannis Giannelis,
Yannis was born in Greece in 1966. Yiannis is considered amongst the best Hotel Managers in the world. He is now entering his fourth season with O'Mega. He brings with him tremendous experience having served as Hotel Manger for 3 years with the Privatsea Group aboard the 120m Turama and Alexander followed by 6 years on board the 72m RM Elegant. Those who have worked with him know that he is a perfectionist and always ensures the success of his charters. His motto is to make everything possible for the client.

Executive Chef - Simone Simoncini
Simone was born in Italy in 1962. He has been with O'Mega for four years now and in this time he has faced many challenges that he has overcome with great aplomb and professionalism. His experience comes from working in the industry for many years. He started and remained at the Grand Hotel la Pacce in Monte Catine for eight years prior to opening his own restaurant in Florence which he ran for 10 years. He specializes in Italian cuisine but is happy to cater to any of our clients' culinary desires.
His hobbies include football and fishing.

Sous Chef - Charalambos Tasiopoulos
Charalambos was born in Greece in 1977. He has been working in yachting since 2011 on board M/Y Sahab IV. He has long experience as a chef in restaurants and hotels. He is extremely hardworking and cooperative. Charalambos has proven himself to be a team player who is very efficient under demanding working conditions.

Stewardess - Tetiana Zymenko
Tetiana was born in Ukraine in 1986 and has been in yachting since 2013. Having worked at M/Y Delma and M/Y Topaz, she has gathered valuable experience, which makes her stand out for her professionalism and her impeccable work ethic. She is very pleasant, making sure that the guests are always enjoying themselves on board. Tetiana joined the O'Mega crew in 2016 and she is known to provide exceptional, friendly and fast service.

STEWARDESS - Juaiyhmah Vitor Lalic
Juaiyhmah was born in the Philippines. She joined the yachting industry in 2009, gaining experience onboard yachts like M/Y ALEXANDER, M/Y TURAMA and M/Y AL MIRQAB before joining the O'MEGA team in 2012. She enjoys each day and looks forward to new adventures. Juaiyhmah has a passion for what she does and will be happy to make your stay as relaxing and memorable as possible.

STEWARDESS - Aneliya Toncheva
Aneliya was born in Bulgaria in 1983. She entered the yachting industry as a laundry stewardess in 2014 on board M/Y Tueq. She then worked onboard M/Y The Jewel as a stewardess. She speaks fluent English and is very efficient. Aneliya is very hard-working, easy-learning and responsible. She is very positive and friendly towards the guests.

ASSISTANT STEWARD - MichaelJeaneP.Rosario
Michael was born in the Philippines and has been on board O'Mega since 2011 as assistant steward. He works very well with the rest of the crew and is always eager to be as helpful as possible.

WIPER - Georgios Akritidis
Georgios was born in Greece in 1976. He has been with us since 2013 and he has proved to be a reliable, hard working crew member. He shows excellent attention to detail, he loves cars and motorbikes as well as gardening.

OILER - Manolo Mariquit Maghinay
Manolo was born in Philippines in 1966. He has a diploma from Misamis Institute of Technology Associate in Marine Engineering. He has been in yachting since 1986. During these years, he gathered experience and he is very co- operative with the rest of the crew. Manolo is hardworking and always there to help as possible.