Luxury Greece Catamarans
Luxury Greece catamarans for charter
Greece charters offers some of the most elegant catamarans in the world. The Greek catamarans featured below are all available for your Greek catamaran vacation. We welcome you to select any of the catamarans and we will provide you with all the necessary information to help you decide on the best catamaran for your Greece yacht charter.
SANTORINI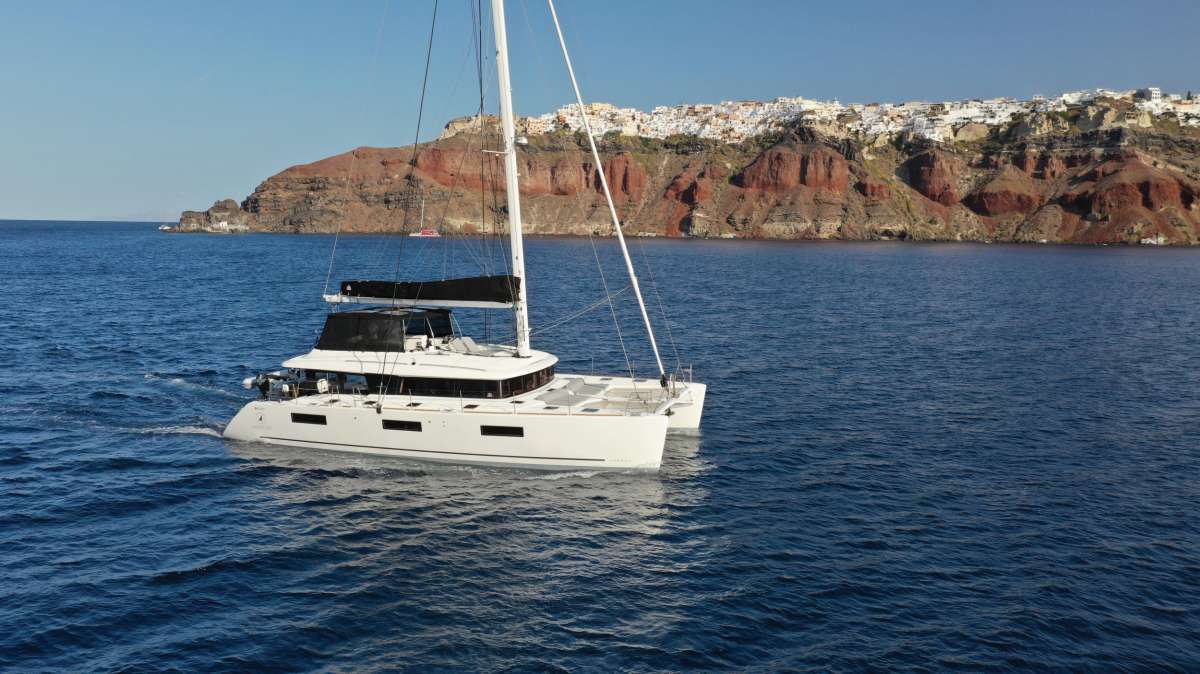 Low Price: €20,000 High Price: €31,500
Accommodations:
5 double cabins with queen size beds all with private bathrooms
Amenities
Dinghy Size:
Ocean Master 460
Dinghy Size:
Ocean Master 460
Water Sports
Other Toys: Hair Shampoo Apivita
Body wash Apivita
Hair mask Apivita
Body milk Apivita
Hand Soap Apivita
Box in each cabin including: Q-tips, sewing kit, one use bath cap, nail file, cotton Apivita
Safe in each cabin
Hairdryer in each cabin
Slippers for each client
Waterproof bag for each guest
Pads & Tampons
Each cabin has sanitizing for hands
Bar & cocktail eqp
Crew Details
CAPTAIN: CHRISTOS LOUKATOS
Captain Christos was born in 1984 and is married. Most of his life he has spent on the sea. He participates in sailing races in his spare time and he is also a FIV sailing instructor in Italy. He also holds a motor yacht license, and life guard certificate. He is an eager Captain who will look after his guests with professionalism and courteousness to make sure they will have anything you need. His calm and alongside cheerful character will make anyone feel comfortable around him. In his free time he enjoys to hike, listening to music and cooking. Captain Christos is fluent in Greek, English and Italian (B2).

CHEF:Tina Shelegia

Tina, originally from Tbilisi, Georgia, has spent the last 5 years in the yachting world. An accomplished actress, she studied and received her degree in the Bachelor of Arts: Theater Arts Shota Rustaveli Theatre And Film University in Tbilisi, Georgia. From Georgia to China, she spent 7 years on stage in art productions. Her passion for sailing and the sea brought her to Greece. With the same energy she has for the arts, she pursued a career in yachting. She holds many certificates such as a Sailing License, Basic Safety Course, Personal Survival Techniques, Fire Prevention And Fire Fighting, Elementary First Aid, and Radiocommunications.

From a young age, she cooked alongside her grandmother and mother learning in the traditional way. In yachting, cooking became her profession. She creates delightful dishes to her guests preferences and loves fresh Mediterranean dishes with Greek products- Shrimp Saganaki is a favourite! In her free time, she loves travelling, sports, cooking, sailing, and reading.

Languages: Georgian, Russian, English (fluent), Greek (excellent), Chinese (conversational)

DECKHAND/ STEWARD - ARVANITIS IOANNIS
Ioannis, also known as "Tzoni", is 21 years old from Greece, with a passion for the sea as he is a windsurf athlete. He has been working as a deckhand in Santorini doing daily cruises, working with many different nationalities and has worked in the hospitality industry as well. His main goal is to become a skipper himself. In his free time, he is very active as he plays basketball, volleyball, tennis, and water polo and has participated as well in Brazilian Jiu-Jitsu games. He has an English proficiency certificate and a German diploma. Last but not least, he holds both sailing and motor yacht license and first aid certification.