Luxury Greece Catamarans
Luxury Greece catamarans for charter
Greece charters offers some of the most elegant catamarans in the world. The Greek catamarans featured below are all available for your Greek catamaran vacation. We welcome you to select any of the catamarans and we will provide you with all the necessary information to help you decide on the best catamaran for your Greece yacht charter.
MOJITO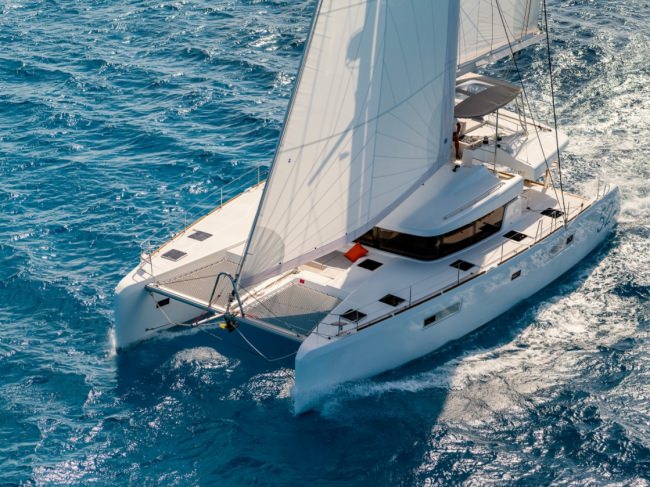 Low Price: €13,176 High Price: €18,788
Accommodations: 5 cabin version (4 guests double cabins ensuite bath)
+ 1 crew cabin ensuite bath
8 guests maximum + crew
Amenities
Water Sports
Other Toys: 2 SUP inflatable
sea-dolphin
masks and fins
trolling rods
Code0 rollabile
sunbathing etc.
Crew Details
CURRICULUM VITAE SERVILIO
CAVAZZANI
Born in Italy, Bolzano, 01.17th.1958.
From the age of 16 years he is taking part in sailing courses
and fun regattas on olympic drifts and joining expert teams
on offshore-sailyachts.
Starting from 1990 he is navigating on cruising-sailyachts in
Mediterranean Sea and Atlantic Ocean in the Caribbean area.
In march 1985 he graduates as Vet in Milan University, than admitted to the Register of Vet in Grosseto
(Tuskany) where he works.
Married with Gabriela Ravanelli since march 1987, father of two daughters Valentina and Giulia.
Further more since 1985 he is managing the farm of his family in Tuscany.
From 2002, because of his immense cuisine passion, he opens a restaurant situated in the Middle-Age town
of Campagnatico.
From 1993 he navigated through Mediterranean Sea with his 50 feet monohull sailing-yacht. Arriving in 2007
with his wife in Greece and visiting the most of Ciclades Islands, Dodecannees and the Turkey Coast. From
2010 he skippered on the cruising-catamaran Lagoon 500 during all 5 seasons in the Mediterranean Sea
and Atlantic Ocean.
Certifications: long-range radio licence, fire fighting, medical first aid, sailing Oceanic licence, Haccp food
licence.
Languages: german and english spoken.
CURRICULUM VITAE GABRIELA RAVANELLI
Born in Italy, Bolzano, 01.13th.1963.
Practising ice-skating and artistic gymnastics where she is taking part in the national junior team in 1974 and
1975. After she dedicates herself to riding, expecially show-jumping and three-days eventing, where she
became a champion 1981 in the area of North-East Italy.
Married with Servilio Cavazzani march 1987, two daughters Valentina and Giulia.
Graduated in Economic Sciences 1993 in Siena University.
Since 1985 she is managing with her husband the family farm, and expecially the agriturismo with restaurant
in Tuskany.
2002 opening a separated restaurant with her husband in the Middle Age town of Campagnatico near
Montalcino.
Sharing the passion for sailing with her husband, they go on cruising in the Mediterranean Sea and
Caribbean.
Expecially from 2007 to 2010 , in every of the four seasons, she sails to the Greek Islands until Turkey coast
with a 50 feet monohull sailing-yacht.
From 2010 sailing on a Lagoon 500 through Mediterranean Sea (Elba, Sardinia, Baleares, Cote dAzure,
Siciliy and Aeolian Islands.
Languages: German, English, French spoken.